Some links are affiliate links, which means if you make a purchase through these links, I earn a commission, at no extra cost to you.
Amsterdam, the capital of the Netherlands, is one of the most visited cities in Europe. I honestly understand why! Although there's 800,000 inhabitants living there, the city is enjoyable. Amsterdam is also the cultural capital of the Netherlands. Indeed, there are dozens of museums in the city, some of them being cultural, others quirky. Oh and course, many people go to Amsterdam out of curiosity, to test out a coffee shop. Gonna spend a weekend in Amsterdam, or even spend 3 days in Amsterdam? Here's an article with everything you need to know!
History of Amsterdam
Amsterdam was first a village where many fishermen where living. It was built on a dam to hold back the river Amstel. Hence the name of the city, which evolved and is now Amsterdam. During the Dutch golden age, from 1584 to 1702, Amsterdam was one of the main ports in the world and the world's leading commercial power. The country's prosperity declined after that, and several wars weakened them. The Netherlands returned to form after World War II.
Description of Amsterdam
Nowadays, during your visit in Amsterdam, there's something you can't miss : the bicycles! They're all over the place! In fact, there's more bicycles than inhabitants in Amsterdam, and the bicycle paths are better maintained than the sidewalks! Be careful, there are numerous accidents, since the tourists tend to walk on the bicycle paths without realizing it!
I'm including myself, I almost got hit four times my first day there. You also have to watch out for tramways in the street, and the scooters on the bicycle lanes. Actually, like Hanoi, you have to cross the street confident, with no hesitation! Keep your eyes open and before going there, don't forget to buy travel insurance!
Walking down the street in Amsterdam, you'll have the opportunity to admire the numerous canals. It's really beautiful, especially when the weather is nice. Walking in the city, you keep admiring the canals and crossing bridges. There are more than 1250 of them in Amsterdam! All right, it's time to visit Amsterdam, and check what to do there!
Things to do in Amsterdam
The Anne Frank House
I'm gonna start with the only museum I wanted to visit in Amsterdam… and I couldn't. Maybe you haven't read it yet, but you probably heard about The Diary of a Young Girl, the book which is actually the diary of Anne Frank. She's a Jewish teenager who was hiding with her family in a very discreet house in Amsterdam, during World War II, when the Netherlands was occupied by the Nazis. The Anne Frank House is a museum dedicated to the young girl, and I really wanted to see it, I read the book a long time ago. Are you an avid reader? Here are the best Amsterdam books!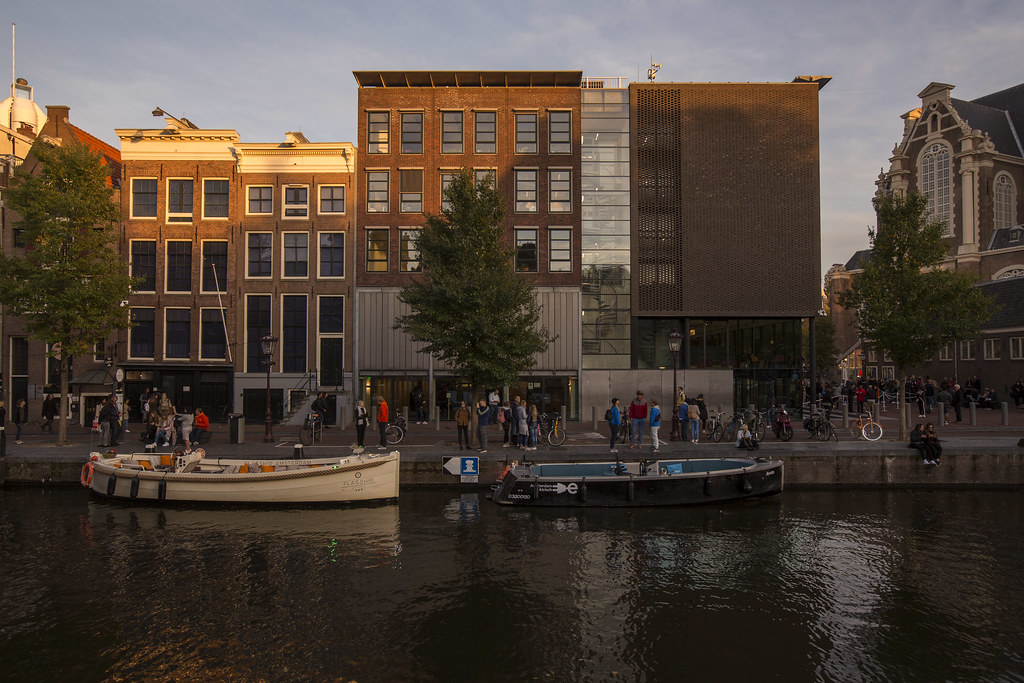 Why didn't I visit the museum…? I went there, and I was told that I had to buy a ticket online beforehand to get in, otherwise it wouldn't be possible. "So you mean all those people waiting in line bought their ticket online before coming here!?" "Yes", said the employee. I checked the website, the first time slot available was two weeks later… Therefore I didn't visit the Anne Frank house. If you plan to go there, first things first, buy your ticket online here! Here's an article with plenty of info about the Anne Frank House. You can also do a walking tour with a guide through the eyes of Anne Frank!
Dam Square
It'd the main square of Amsterdam, and you can't miss it. In the heart of the city, next to the train station, it's a very lively square. Obviously you'll admire the royal palace, built on thousands of wooden pillars. It was the city hall until 1806, but it's still used today by the royal family for official ceremonies, etc… It's possible to visit the palace (I didn't). On Dam Square, there are also many stores, little shops and Madame Tussaud museum.
Vondelpark
The Vondelpark is the largest park in Amsterdam (48 hectares/120 acres), and I recommend to go. It's a very beautiful park where locals and also tourists go. Sometimes there are concerts taking place there. There are many other parks in Amsterdam, among others Westerpark, Rembrandtpark or Oosterpark.
The red light district
You cannot go to Amsterdam, and not have a look around the red light district. You'll notice that anytime of the day, even in the morning on a weekday, you'll see sex workers, next to sex shops. I saw families walking around there, but I suggest you not to go with your kids. Anyway, there are other things in the red light district. There are also bars, beautiful churches, but also museums like the Amsterdam museum, the cannabis museum, the sex museum, the erotic museum…
Regarding the sex workers, don't forget they're human beings before everything else, so don't take pictures of them as if they were an animal in a zoo! Anyway, it's forbidden. Some of them have a laser able to destroy the lens of your camera! There are also discreet cops who can give you a hefty fine if they see you taking pictures of the sex workers. Now you know. If you're interested by this area, it's possible to do a walking tour with a guide. Buy your ticket here.
Foodhallen
Foodhallen is a huge indoor food market, serving all kind of food. In Foodhallen, you'll see various stands serving what you're craving for : burgers, dim sum, falafel, fish, rib steak, salads, waffles… Located in the western part of Amsterdam, Foodhallen allows you to eat great food! It's not too expensive, and the food is delicious!
Jordaan
It's the hipster area of Amsterdam but still, having a walk there is enjoyable. It's the area where artists and students live, and the atmosphere is quiet and bohemian. You'll find numerous cafés there, small shops, and there's a market on Saturday and Monday. Unsurprisingly, there are many vegan restaurants in this neighborhood.
Heineken Experience
Some people say it's overrated, but I liked my visit at the Heineken museum! It's the former Heineken brewery, and they turned it into a museum! We learn about the history of this famous beer, how they brew it, there are interactive games… Not an unmissable but I liked it! Moreover, you get two beers at the end of the visit! Buy your ticket here! For more info, I wrote a Heineken Experience review! If you're into beer, here's an Amsterdam craft beer guide.
Museums of Amsterdam
First off, here are the best art museums in Amsterdam! Those who follow this blog already know it, but I'm not a big fan of museums in general… I really want to visit a museum to go (like the Anne Frank house). But for those into museums, you'll be thrilled! The most famous and the largest one is the Rijksmuseum, an art museum with a collection of one million objects. There's the Van Gogh museum and the Rembrandt House museum. There's also the photography museum, the Stedelijk museum (modern art), the Amsterdam museum, the Jewish Historical Museum, the Moco museum… You have plenty of options! Think about buying skip-the-line tickets online, otherwise you'll wait a long time to get in!
Coffee shops in Amsterdam
When we say Amsterdam, we often think about coffee shops -where they sell weed, not to be confused with a café-, legal drugs… The first coffee shop of the country was the Mellow Yellow, and it opened in 1972 in Amsterdam. The stoners were frustrated cause they couldn't find good weed. They found out the easiest business to open was a café. Hence the name coffee shop. Everything looked like a regular café, but you had to give a password and they supplied you with weed.
The Mellow Yellow (it closed in 2017) set a trend. Other coffee shops opened after that. At a time, there were more than 400 coffee shops, but there are less than 200 now. They don't serve alcohol in coffee shops, cause from their experience, they know mixing drugs and alcohol can be an explosive mixture, especially for the foreigners not used to smoke the local weed, which is strong!
We never know where the weed they sell comes from, but from I heard it's a good one. Please, don't buy from a dealer in the street, lose your habits! Why buy outside when you can legally buy in a coffee shop!? Officially it's forbidden to sell to customers but the coffee shops don't respect the rule, because the foreigners bring money!
The only city where they respect the rule is Maastricht. Indeed, this city is located between Belgium, Luxembourg and Germany. It was just attracting drug tourists. If you wanna know more, go to a ganja tour, it's a walking tour with a local guide where you'll learn about the history of weed and its legalization. Buy your ticket here.
Other things to do in Amsterdam
Check this Amsterdam bucket list for other ideas! Go on a cruise on the canal, it's really nice and it would be a shame not to do it. Click here for more info. Otherwise there are many markets in Amsterdam, take some time to see at least one. There's the Noodermarkt in Jordaan, the Waterlooplein market, the Bloemenmarkt (a flower market), etc… And of course, since you're in Amsterdam, go on a guided bike tour in the city! You can also rent a bicycle and visit Amsterdam freely. Rent a bicycle here.
Sip a delicious cocktail at Amsterdam's Icebar. Click here for more info. You can visit the AJAX Amsterdam stadium. Click here for more info. Explore the mysteries of the human body at Body Worlds Amsterdam. Click here for more info. Have fun at Amsterdam's first artistic playground for adults. Click here for more info. If you have some time in the Netherlands, you can go visit Rotterdam, or go to Efteling theme park. You can also go to the beautiful Keukenhof garden to see tulips in bloom.
If you plan to spend some time in the country, here are the best places to visit in the Netherlands!
How to get to Amsterdam
If you're not too far (Paris, Brussels, Rotterdam, Cologne…), the easiest way to get to Amsterdam is by Thalys train. The train tickets are not expensive, and it will take a few hours only to get there. Otherwise click here to check the latest flight prices to go to Amsterdam.
How to get around in Amsterdam
If you wanna do like the locals, rent a bike to get around. Please don't be that annoying tourist who doesn't know how to ride a bike. A local told me "Spanish people here are known for being dangerous on their bicycle. When they're alone that's fine, but they're often in groups and it can cause problems". If you're not into bicycles, there's still the subway, buses and tramways.
To make the most of your stay, the easiest thing to do is to take the I Amsterdam City Card. It's valid from one to five days (you decide), you can use public transportation for free, you get a free canal cruise and you can enjoy free entrance to several museums like the Rijksmuseum, the Van Gogh museum, the Rembrandt museum… Buy your card here! Here's how to use the I Amsterdam City Card.
Where to stay in Amsterdam
You'll notice staying in Amsterdam is not cheap… Amsterdam is a very popular city and the hotels fill up fast! Book your accommodation well ahead of time.
If you're traveling on a budget you can stay at Via Amsterdam, a nice hostel. Click here to book your stay. If you're looking for a mid-range hotel, you should stay at the CityHub Amsterdam. Click here to book your stay. If you prefer luxury hotels, you're gonna like the Hotel TwentySeven. Click here to book your stay. Otherwise click here to check the hotels available.
Amsterdam travel tips